Colloquia, Public Lectures, and Conferences

2009-10 DEPARTMENT OF MUSIC COLLOQUIUM SERIES
Most Department colloquia are held in 622 Dodge Hall and are free and open to the public
.
Please see the event listings on the right sidebar of this page for detailed information or last-minute changes. To inquire about our colloquium series, please contact the organizer, Prof. Karen Henson, at: kh2174@columbia.edu
For the Fall 2009 Music Colloquium Series we are proud to present:
Amy Beal, University of California, Santa Cruz
"The Music of Carla Bley"
Friday October 23rd, 4pm
Respondent: Beau Bothwell
Co-Sponsored by the Center for Jazz Studies
Manuel Pedro Ferreira, Universidade Nova de Lisboa, Portugal
"Congregati sunt inimici nostri: A Survey, a Codex, and The Holy War"
Friday November 20th, 4pm
Respondent: Sean Hallowell
Elizabeth Davis, Columbia University, and Bob George, Founder and
Director, The ARChive of Contemporary Music
"A Force for American Music: The Alice M. Ditson Fund and The ARChive
of Contemporary Music"
Friday December 4th, 4pm
Respondent: David Gutkin
Cosponsored by Department of Music
October 8th (Thursday) 6:00-7:30pm
Room 403 Kent Hall
"Music as Anamorphic Spot: The Radio Broadcast in *Tengoku to Jigoku* ("High and Low," dir. A. Kurosawa, 1963)"
Lecture by Giorgio Biancorosso, University of Hong Kong
___________________________________________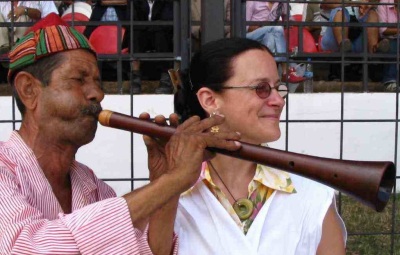 The Center for Ethnomusicology is pleased to present a public colloquium featuring Sonia Seeman (Assistant Professor, Department of Music, University of Texas at Austin), entitled:

Metaphoricity, Iconicity and Mimesis: Towards a Musical Semantics of Social Identity in Turkish Roman ("Gypsy") Music

The
colloquium will be held from 4-6PM on Tuesday, November 6, 2009, in
701C Dodge. It is free and open to the public. For more information, please click here.
One primary concern of musicology and ethnomusicology has been refining
theoretical tools for analyzing the role of musical practices in
constructing, maintaining and challenging social identity. This paper
investigates the process by which social meanings are ascribed to sound
through the example of a Turkish genre, Roman ("Gypsy") dance tune
(Roman oyun havas?). By focusing on emergent moments in which
successful---and failed---linkages are formed between ideological
referents and sound in varied contexts, this paper explores the
semantic dimensions of metaphor theory for understanding the means by
which representations of social identity are formed through engagement
with music.